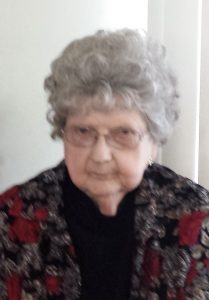 Anna Elizabeth "Betty" Letzler, 96 of Greensburg, passed away on Tuesday, Ocotber 29, 2019 at the Decatur County Memorial Hospital. Betty was born on April 6, 1923 in Sardinia, the daughter of Marion and Florence (Young) Gorbett. She was a 1941 graduate of Jackson Twp. High School. She married Dale Letzler on March 16, 1945 in Greensburg and he preceded her in death on April 13, 2007.
Betty first worked as a sales clerk at Minears. She then co-owned Mary and Betty's Grocery Store on South Broadway Street for 15 years. She was also a Deputy Clerk Treasure at the Courthouse for 12 years. She was a member of the First Baptist Church and the order of Eastern Star. In her free time she enjoyed reading, sewing and crocheting.
She is survived by her two daughters – Judith (Bradley) Norman of Kettering, Ohio and Jane (Steve) Miller of Greensburg; her son Don (Patricia) Letzler of Rushville; eight grandchildren – Eric Norman, Christie Swem, Jessica Haire, Amy Erwin, Kylie Conde, Steven Miller, Tracy Letzler and Danielle Osborne; and 13 great grandchildren. She was preceded in death by her parents, her husband, her sister Mary Harmon and five brothers – Russell, Herschel, Donald, Richard and Cecil Gorbett.
Visitation for family and friends will be held on Saturday, November 2, 2019 from 10AM until the start of the funeral service at 11AM at the Gilliland-Howe Funeral Home. Burial will follow at the South Park Cemetery. Memorial contributions may be made to the American Cancer Society. Online condolences may be made to the family at www.gilliland-howe.com.
//?#
You can find the complete original obituary on this
website
.